[cross posted at E Pluribus Unum]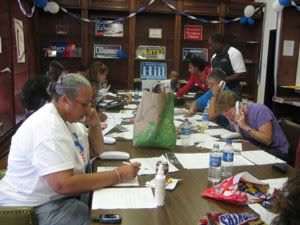 I just wanted to take a few moments to tell you about the excitement in Baton Rouge about getting out the vote now in the last 72 hours before the election.

This past Wednesday, Obama HQ in Baton Rouge had an organizational meeting that was kicked off by gathering several dozen people to watch Obama's infomercial. Following that, the local organization asked everyone to find four people to each take a two hour shift during the upcoming weekend.

A word about this simple technique: it is what distinguishes the Obama ground game from almost all others that came before it. In the past, the conventional way of getting volunteers was for it to be organized from the top down. In Obama world, the grassroots volunteers find others like themselves to pitch in.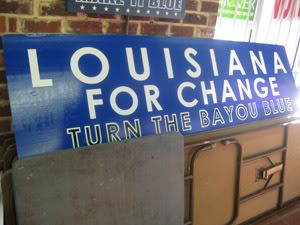 Miss Julie and I went to work and were able to find eight of our friends (in addition to us) to each take a shift making phone calls and canvassing through Election Day.

Our first day was Saturday when we called for two purposes: Finding yet more volunteers (shelf life of volunteers is relatively short) and calling to remind people to vote on Nov. 4. We were pretty good at this already, having done it last weekend at a local house party organized by MoveOn. At that event we were calling to find volunteers to work in Virginia; this time it was all local to East Baton Rouge parish.

Lots of people say they hate making phone calls like this but honestly, the way it was organized, it was very easy. The trick was to get started and get your momentum going. Once you're going, don't stop. In this way, the time passes quickly and you meet some terrific volunteers and you also talk to some wonderful people on the phone. Lots of enthusiasm all around. And the best part? It keeps you from fretting about every little wobble in the polls, and every silly story in the press. And you're part of history.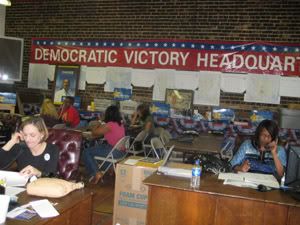 I went in again yesterday, Sunday, and spent another two hour shift phoning. Miss Julie will do the same on Monday (I can't -- I'm having a root canal in the morning). In the meantime, our friends have been phoning and some will even be canvassing on Tuesday.

Bottom line: it isn't too late to volunteer. Anyone reading this should consider doing whatever you can on Monday and Tuesday. Call your local Obama HQ -- now! -- or visit my.barackobama.com for details on who needs your help in your area.

Do it, even if it's for an hour or two between now and the election. You really can change the world -- one person at a time.